Liquid ring vacuum pumps are rotating positive displacement machines providing process vacuum in industrial applications such as chemical, electrical power, environmental, food & beverage processing and packaging, marine, mining, oil & gas, pharmaceutical, pulp & paper, and textiles.
Liquid ring vacuum pumps utilize water or other processes compatible liquid as the sealant. The simple operation, with no contacting parts, makes liquid ring vacuum pumps a safe and reliable choice for handling dirty and potentially dangerous gas streams. Liquid ring pumps are available in single and dual-stage designs and configured as compressors for even more versatility.
CHEMICAL INDUSTRIES
These vacuum pumps are used in chemical industries to increase production. A liquid ring vacuum pump is recommended for chemical applications.
KWRD Series Water Ring Vacuum Pump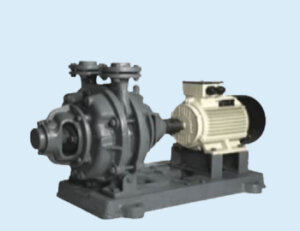 KWR-100-DC
*100 m³/hr *660mm/hg Vacuum *5 hp
KWR-200-DC
*200 m³/hr *660mm/hg Vacuum *10 hp
KWR-250-DC
*250 m³/hr *660mm/hg Vacuum *10 hp
If you need a Vacuum pump please let us know.